4.8 star rating
84 Reviews
We love our CLIQ Chairs!
Review by Ali on 18 Oct 2019
These chairs are the best! We are a busy family and these chairs make it easy for all of us to have a comfortable seat at all practices and sports games. They are so compact my kids now carry and set up their own chairs! We recently ordered some more for a last minute camping trip and their awesome customer service rep. helped expedite the order to get them to us on time! Thank you, ClIQ, for such an awesome product!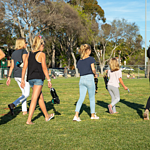 Hi Ali,

Thank you for your kind review and picture!
Happy to hear that our chairs have made attending your sports games more hassle free. We are glad to have been able to help you out to receive your CLIQ chairs in time for your camping trip :).
Effortless transport to the game or on the trail
Review by Patrick on 18 Oct 2019
Although the Cliq chair is comfortable my favorite feature is the ease of transporting multiple chairs to the game, campfire, trail, beach or parade. With the compact design when folded I now can take those extra chilled beverages with ease and still relax on style.
Other chairs are bulky, heavy and clumsy.
Great chair overall. I always have two in the car and truck just in case.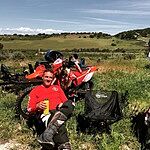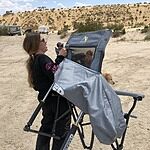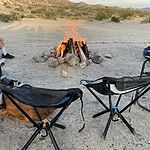 Patrick,

Thank you for taking the time and leaving us a review and those awesome pictures! Happy to hear that you can now more easily and comfortably attend your games, the beach or parade:).
Easy setup blows my REI chair away
Review by Mike on 18 Oct 2019
I bought the chair to quickly and easily pack into my backpack when heading to the beach and the park with my kids. So much better than the similar sized REI flex lite chair as its both way easier to setup and more comfortable. The design is nice too...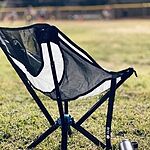 Love my CLIQ chair!
Review by Brandon on 18 Oct 2019
Loving my new CLIQ chair! Easy and fast to set up, super compact, sleek design and can be easily stowed. I always keep my chair in the back of my trunk and never go without having a seat ever again :).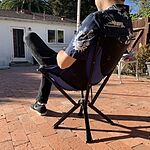 The best portable chair ever!
Review by Max on 16 Oct 2019
I've been rocking a Tommy Bahama chair for years but never again. This chair is so easy to carry and super comfortable! I'll be adding a few more to my collection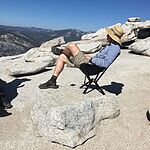 Q: Can you use CLIQ Chairs in deep sand?
A: CLIQ Chair was designed for use in deep sand. The chair has clearance where you need it (in the central hub) to avoid locking up; and tight seals on the telescoping arms to keep sand from getting in.
A: Hello,

The CLIQ chair is built to last. It has a weight limit of up to 300lbs.
Q: is there any sort of warranty on this product?
Ben
A: Hi Ben,
We offer a 1-year manufacturers warranty on all products sold.
Q: Whats the weight of the chair? and size when fold?
A: The chair weighs 3.65 lbs and folded size is ~4x4x15.